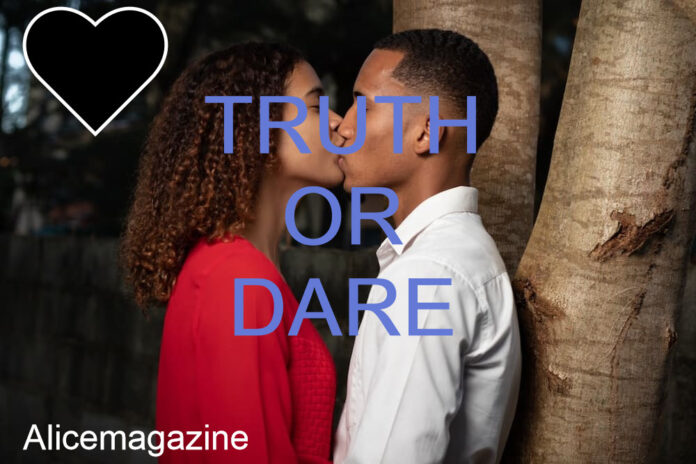 Introduction
Truth or Dare is a fun game that anyone can play. Games are activities that may require skills or knowledge and are played for entertainment or educational purposes. Truth or Dare games can be played at parties, and can be played during gathering with friends and families. For every game, there are rules and regulations guiding it. Truth or dare is great for couples because it creates an avenue to know your partner more on an intimate level. 
How Truth or Dare is Played
It is easy to play this game and the rules are quite simple to follow. The game requires two or more players. Below is how to play Truth or Dare:
If there are more than 2 players, then all players should sit in circles.

A bottle should be used to select players if there are more than 2. The bottle is placed in the middle of the circle and made to rotate. Whomever the bottle stops at will be made to answer a question or carry out a daring task.

Players must first begin by asking Truth or Dare.

Players take turns in asking or daring.
Rules Guiding The Game
Players are allowed to set their rules first before playing the game. Setting the rules allows players to know what is allowed and what could be considered off-limits. Writing down the agreed rules enables players to refer to them when playing. 
Some of the rules could include but are not limited to:
Listing some personal questions that are not allowed.

Dangerous dares are not allowed.

How many times a question or dare can be repeated.

If dares can be done to people who are not participating in the game. 

The number of fines to be paid if a player defaults in answering a question or carrying out a daring task.
Truth Questions
These questions have the ability to expose secrets and give you an inner view of your partner's past, fantasies as well as fears. The main aim of truth questions is to get your partner to review embarrassing moments and have a good laugh so try to stay in line and not ask too many personal questions.
Here are some exciting questions to ask.
Has your partner ever hit you?

What has been the craziest date you've ever been to?

Have you ever stalked your ex on social media?

Mountains or Beaches?

Do you like giving or receiving a head job?

Name one thing you can't live without.

Have you ever been an abusive partner?

Have you ever cheated or cheated on?

What is your guilty pleasure?

What do you value most in a relationship?

Have you ever been arrested?

What is your deepest secret you can't tell anyone?

What was the reason for the last time you cried?

Have you ever stalked your crush?

Have you ever sneaked someone of the opposite sex in your room?

Gone skinny dippy with a partner before?

Have you ever been kissed by the same gender?

Have you ever crushed on the same gender?

Which of your partner's habits annoys you the most?

What do you miss the most about your relationship when your partner is not around?
Also Read:10 most expensive royal weddings featuring Princess Diana, Meghan Markle and more
Dare questions
And while the questions reveal inner secrets and truth, you can spice up the game by asking some daring questions also. It reviews the fun and quirky sides of your partner and it is for entertainment purposes while watching your partner embarrass themselves. Do not give dangerous dare tasks. Here are some dares:
Sing a song and dance seductively.

Call a random number and profess your love for your partner. 

Remove your partner's clothing without using your hands.

Write a romantic poem with your partner's name.

Call your parents and scream your partner's name.

Give your partner a lap dance.

Post a bad picture of you and your partner on social media.

Use your partner's picture as your profile picture for 48 hours.

Give your partner a massage for three minutes.

Describe your relationship for the next two minutes.

Write "I love you" with your tongue on your partner's chest. 

Remove five items on your Partner's body using your teeth.

Upload the last picture in your gallery on Instagram.

Go live on Facebook and talk gibberish.

Take three items from the fridge, blend them and drink.

Text your parent that you're pregnant.

Take a body shot off your partner.

Take a shower while on your clothes.

Do Ten pushups while singing your favourite song.

Give your partner a piggyback ride.